We are a consulting firm specializing in creating cultures of productivity at the organization, team, and individual level. Founded in 2003 by pioneer in productivity and author of Take Back Your Life!, CEO Sally McGhee, our team of experts has helped thousands of clients–from Fortune 500 companies to small and medium sized businesses–optimize their productivity and deliver measurable, sustained results. We are proud to be a women-owned business and are certified by the Women's Business Enterprise National Council. We are based in Denver, Colorado and serve clients around the world through both on-site and virtual programs.
Drive a company-wide culture of productivity
Create alignment among teams throughout the organization
Enable focused, empowered, and inspired employees
Create high-functioning work teams centered around accountability and measured performance
Ensure organizational goals are implemented with shared leadership, motivation, and better communication
Learn how to focus on getting the right things done
Become digitally fluent with your technology
Create better work/life balance
We deliver integrated solutions around alignment, accountability, workflow management, digital fluency, and well-being focused on creating cultures of productivity across organizations, teams, and individuals.
Productivity improvement should not be limited to soft tips and tricks. We bring a measured approach to track productivity effectiveness, identifying areas for additional focus and improvement, and ensuring your productivity is sustainable over time. 
Before diving into proven productivity improvement programs, we first look at shifting your paradigms. If you don't change what you believe, you will always be stuck with the same results. This is much more than learning technology hacks.
Our Productivity Philosophy
We have a strong philosophy about what makes a culture productive, centered around five specific areas:  Alignment, Accountability, Workflow Management, Digital Fluency and Well-being. We believe that for organizations to be truly productive, they must be aligned across these five areas, with positive behavioral change through internal paradigm shifts.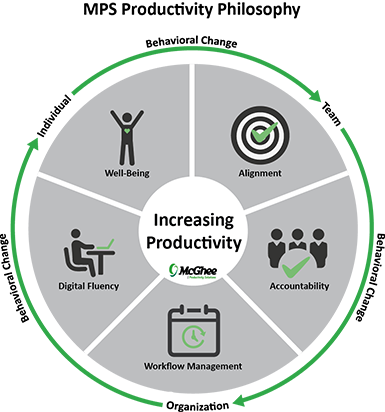 A Few of Our Clients